The Building Crafts College has a long tradition of delivering high quality education training in building crafts and building conservation.
The student population of the College is diverse, with a wide range of ages and backgrounds. Our courses also span a great range of opportunity. Theoretically, a student can enter the College to complete a short course and progress through to complete a construction management qualification.
The emphasis of our work is to give all of our students the opportunity to reach their full potential and our expectations of our students are high. There is a constant focus on delivering skills and producing work of high quality, whether they are full time students, apprentices or degree students.
Employment opportunity is also an important element of what we do and we support our students in accessing employment opportunities if they are not already employed.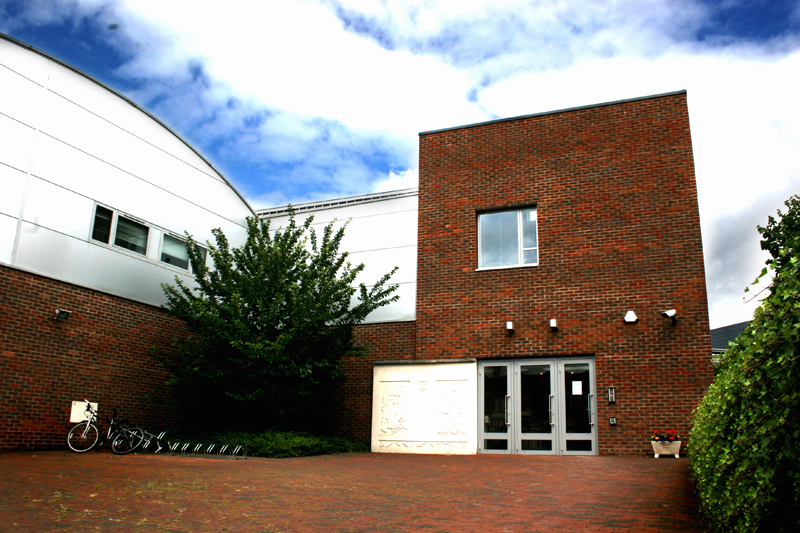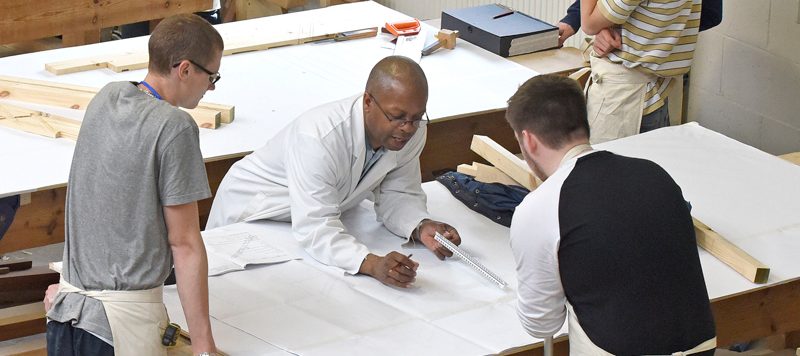 The Building Crafts College was founded in 1893, by the Worshipful Company of Carpenters, a City livery company, to train young people in a range of construction crafts. The first Chairman of the College was architect Professor Banister Fletcher, the author of the world renowned book 'A History of Architecture on the Comparative Method', first published in 1896 and still in print today. The College occupied the same site in Central London from 1893 to 2001 before relocating to a purpose-built facility in Stratford, East London in 2001.
The Building Crafts College is constituted as an Educational Charity and is governed and financially supported by the Worshipful Company of Carpenters. Approximately 60% of income is derived from public sources, 25% in fees and 15% from charitable sources, mainly the Carpenters' Company Charitable Trust.
College Welcome and College Mission
The Building Crafts College has a well-earned reputation as a Centre of Excellence in traditional building crafts and building conservation and it is our mission to offer both craft and technical education at the highest level to all of our students.
Supported by the Worshipful Company of Carpenters, the College offers excellent facilities, expert tutors, eminent visiting lecturers and very supportive staff. Our modern purpose-built college, along with our annexes in Gibbins Road, Stratford, offer an excellent environment for study.
We pride ourselves on a welcoming and supportive atmosphere. We are not too big to care for the individual. Every student is placed under the wing of a nominated course tutor who is responsible for all aspects of that individual's training and welfare. Of course there are other members of staff who will support him or her in meeting individual needs, but the nominated tutor combines the traditional role of the master craftsperson with that of mentor to advise and guide students at every stage of their development.
The College is essentially practically based. By far the majority of time is spent in the workshop environment and much of the theory and underpinning knowledge is imparted in small groups around the work bench in what we like to call tool box talks. Class rooms are used for more structured, theoretical instruction and are equipped with modern computer facilities. A library is available as a quiet room for personal study and computers are readily available to all students for course work and the building of portfolios of documentation for assessment purposes.
The College is fully committed to providing equality of opportunity and celebrating difference. We believe all of our students are capable of progressing in their chosen subjects to become a master craftsperson, a construction manager, or a technical expert in their field. When people enrol at the Building Crafts College they become our students and, regardless of their background or prior achievement, we support them in reaching their full potential. 
Please browse this website to see the wide range of courses on offer and how we can support those who are interested and committed to reach the highest level of skills and competence in their chosen discipline. You can also see examples of many of our students who have met with success. We have regular Open Days and would be delighted to welcome you to the BCC for a tour.
The College Management Team
Join us at an upcoming Open Day!